Emerson Institute Stole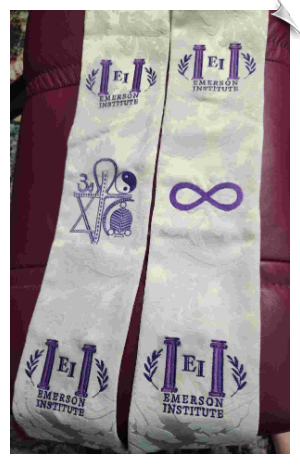 Click to enlarge image(s)
Emerson's symbol reminds people of this infinite potential. We are "open at the top," and we continually try to find ways to say Yes! to each student's soul evolutionary path in revealing their True Authentic Selves. Our motto, "PRIMUM COGNOCITE DEUM," means "KNOW GOD FIRST," and is embroidered on the neck of the stole. This symbolizes our foundation, and embroidered on the neck of the stole also symbolizes its place at the gateway to the Infinite.
At the center of the stole are two symbols.
The Oneness Symbol
shows that at their core all Faiths share a common heart and facing it is the Infinity Symbol, which in some traditions is also considered a symbol of unity. W
e have it facing the Oneness Symbol to show we are in accord to the Divine within all the peoples and faiths of the world.

The stole features a rounded neck and 4" chainette fringe at each end. The stole is shown made with Ivory brocade and lining, purple fringe, and the symbols are embroidered in shades of purple.

You have the option to select the fabric and embroidery colors you'd like.
Scroll down for our fabric and embroidery color options.